Salvadoran American Humanitarian Foundation, Inc.
(aka) Salvadoran American Humanitarian Foundation Inc

2050 Coral Way, Suite 600
Miami, FL 33145
Phone: 800-992-8858
Mission
We support hospitals, clinics, nursing homes and orphanages by providing medicines, medical supplies and equipment, nutritional supplements, school supplies and other staples needed for poor and malnourished children, orphans and families in El Salvador.
Real Life Story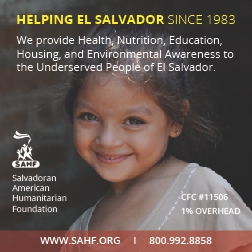 Dora Adelina Ortiz C??ceres was born March 11, 2009. Her mother Juana Josefina Calzadia, at the time she gave birth she was only 16 years old. For multiple reasons including her age, low economic resources and limited access to health services, she gave birth at her house assisted by her mother and aunts.

Feeding practices were poor, exclusive breastfeeding was limited and the mother also stated that breast milk was minimal after giving birth. She also relates that before and after pregnancy she presented problems of thinness and weight gain during pregnancy. During pregnancy, the food was limited to vegetables and mango with lemon.

The Calzadia family home is in a field, with difficult access, with no basic services, making it difficult to have a good hygienic environment.

Dora Calzadia in September 21, 2010 came to the first visit to our program in the Community Bendicion de Dios. She was 1 year 6 months, weighing 15 lbs with a height of 26 inches. After medical evaluations were done to Dora she presented severe malnutrition for her size and age age.

Since May she attends our program regularly. Our staff made suggestions during her nutrition interventions which were well taken into account. Today the girl's weight is 18 lbs, with a size of 28 inches, still presenting nutritional problems but the changes that have been obtained are extremely amazing.

Juana Josefina with very low income is developing educational materials to stimulate her child's development. Dora receives a monthly food supplement that her mother prepares for her.

Dora at the beginning did not say a word. Today, she says mama, papa, water, eat. She now walks, runs, eats and hugs her family.